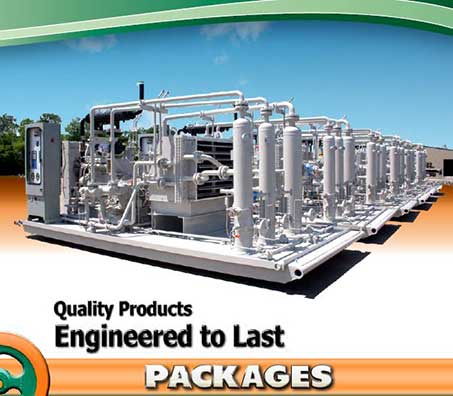 Reciprocating Natural Gas Compressors & Packages
Arrow offers a range of reciprocating compressors and packages to meet your needs in a variety of applications.
The Arrow VRC-2 gas compressor is a two-throw separable reciprocating gas compressor. The VRC-2 natural gas compressors are well suited for gas gathering, gas boosting and gas reinjection to enhance oil production and many other applications. We often package these with Arrow engines, but also offer the option to use other engines to meet our customer's specifications.
The Arrow VRC-CNG compressor for compressed natural gas is a two-throw separable reciprocating gas compressor. The horizontally opposed cylinders are accurately balanced for smooth running and long lasting durability at 1800 RPM.
The VRS natural gas compressor manufactured by Arrow is a two-throw separable reciprocating gas compressor rated for 275 horsepower at 1800 rpm. We use the same crankshaft design as our VRC-2, which utilizes a three-throw crankshaft that eliminates cylinder offset and allows the cylinders to run in the same plane. This state-of-the-art design greatly reduces vibration and produces the smoothest running reciprocating compressors in the industry.
The VRU-1 gas compressor is designed to be perfectly suited as a Vapor Recovery Unit, as well as a small natural gas booster compressor. The VRU-1 is a small unit with a simple design, but it has been engineered with heavy duty components and extremely durable running gear, operating at a relatively low speed. These robust features make this unit more reliable and longer lasting than other compressors of this type.
The VRU-2 is a two-throw, two-stage compressor. Two VRU-1 compressor frames can be bolted together to make a VRU-2 two-throw compressor frame. The two-throw crankshaft is required for this, but essentially all other parts are a duplication of the same parts used in the VRU-1 compressor frame.
Compressor PACKAGE OPTIONS
Engine Drive or Electric Motor Drive
Low BTU Carburization
Standard or Critical Grade Silencers and Catalytic Converters
Class I, Div. 2, Group D Capable
Automatic Bypass System/Suction Makeup
Air/Gas Starter System
12V/24V Electrical System
Automatic Cooler Louvers
Suction & Discharge Companion Flanges
Trailer Mounting Available
Meter Systems/Tubes for Gas Flow/Fuel Measurement
Maintenance Spare Parts